I cleaned up and sharpened an old Stanley number 48 today and put it back into service. I won this plane on ebay a while back and finally got around to giving it some TLC. There is a rust pit spot in the middle of one side of the fence, but it doesn't effect the use of the tool. The irons sharpened easily and quickly being so small and in no time I was making twin curls of shavings.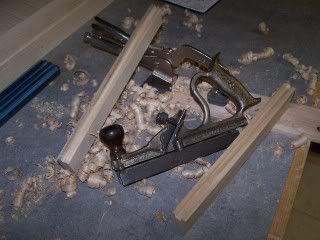 For those not familar with the No 48, this is the Stanley tongue and groove plane. It has an ingenius design that allows you to cut a matching tongue and groove by flipping the fence around. In fact often this plane is called a match plane. The only drawback I see to this model is that it centers the groove on a 7/8″ thick piece of stock and it is rare that I will be doing any T&G work on stock this thick. Usually I use this joint when making ship lap backs for cases. However even if the stock is less than 7/8″, the plane still works great it just puts the groove a little off center. Make sure that your stock is the same thickness for a perfect match.
For the whopping $60 I paid for it this will be a great user. Much less than the new version of this plane that Lie-Nielsen is now offering. Now the soon to be released version that centers on 1/2″ stock…that may be a different story since that is the thickness I do the most work with when it comes to matched joints. Leave it to those guys at Lie-Nielsen to make sure my paychecks get spent!
While I am on the topic of giving new life to old tools. I picked up this little beauty at an antique store this week.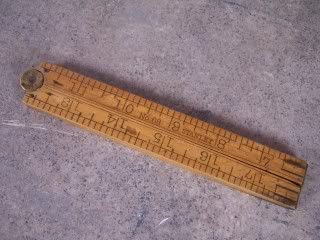 The St
anley 68 folding rule is made of boxwood and this one still has very clear markings and the engravings look fresh. All the hinges are tight and work smoothly. This little rule fills a great niche for me as it folds up and fits nicely in my apron pocket while still giving me a full 24″ reach when I need it.
There is something nice about putting these tools back to work. I think the previous owner would be happy to know that their tools are still working hard.
Google+ Profile