RWW 38: Working on Different Projects at Once
I have a bunch of stuff on the agenda this week but the general topic is a discussion of my strategies for working on a lot of different projects at the same time and how to keep them organized and moving through the shop efficiently. Take a listen and let me know what you do in these situations.
I also touch on a bad kickback episode I had this past weekend. Here is the result. I am fine but sore and more than a little bruised.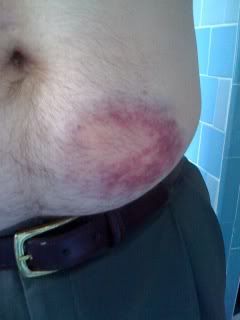 Listen to find out how it happened.
I am also curious to see what you all do with your shavings. Do you throw them away like me or is there a good use for them. Here is a pile of beautiful cherry created by hand surfacing a slab of Choke Cherry harvested from my in laws yard.
Here is a new addition to my shop to try and control some of the rust I see in the summer months as the humidity climbs. I'll report back later to let you know how it is working out.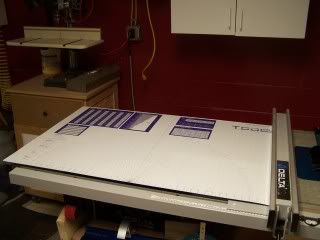 Finally, here is a shot along the long axis of my shop and you can see the individual stacks of projects all over the place. This is one of my strategies for handling multiple projects by keeping all the parts together and separate from one another to avoid confusion.
Finally, the blog of the week is Peter Follansbee's Joiner Notes. This is a great look into 17th century woodworking. You can find Peter at the Plymouth Plantation as well as in the latest issue of Popular Woodworking where he shows us all a simple carved box. Check out his site.
OK, here is the podcast, enjoy the show!