Hoarded Treasures Exposed Vol 2
So as promised here we are another month later with a peek into my wood stash. I chose this month's piece because I think I know what to do with it and wanted to share it before it becomes something else. As some of you may remember from one of my earlier posts, The Pack Rat Exposed, my father-in-law has an affinity for Lignum Vitae. I confess, that working with this wood was fascinating and I became a little obssessed with it as well. With a specific gravity of 1.05, Lignum will actually sink in water, thus earning it's nickname Ironwood. This wood grows primarily in Central America and northern South America. The grain is heavily interlocked with very tight rings making this a beast to work with your chisels and planes. In my short experience with it I have found it to turn extraordinarily well and will polish up nicely.
So if we dig through the turning stash we come up with this beauty: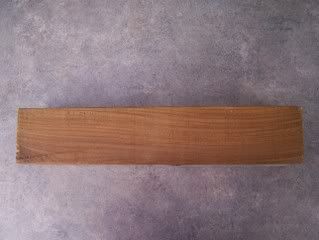 This piece of Lignum has that beautiful green cast to it and wonderful straight grain. Take a look at the end grain and you can see how tightly interlocked it is.
So my thoughts since I am just discovering carving are to turn this into a carver's mallet. The blank is 3 inches square and 16 inches long. I would love to hear any other ideas about this beautiful piece, but if there are no disagreements then I will look to make this mallet sometime in the next month. So until the next "Hoard" installment, let me hear what's in your wood pile.