Hoarded Treasures Exposed Vol 3
It's been another month and it is time for another installment of Hoarded Treasures exposed. Last month I actually did something with the Lignum Vitae I posted, but this month I am at a loss for what to do with this fine specimen.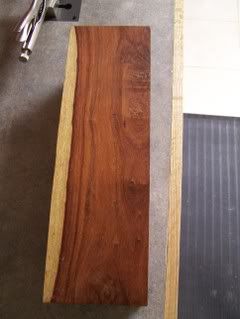 This is a 5x5x14 inch block of Grenadillo. It has been waxed hence the sheen to it. I have had this piece for almost two years and still am not sure what to do with it due to it's odd size. At first glance it would make good turning stock, but I almost think that would be wasteful and veneer might be a better fate. Besides with it being so heavy and large, I am almost scared to chuck this baby up and set it spinning at high speed!
Grenadillo or Granadillo is a tropical hardwood in the Rosewood Dalbergia family from Central America. It is closely related to Cocobolo and is also called Nicaraguan Rosewood. It is very heavy, very hard, and has a tight interlocking grain. In other words all the same properties of Cocobolo. It's primary uses are in cutlery handles and musical instruments as well as decorative inlays. Supply is limited and therefore very expensive. I feel very blessed to have this piece in my collection.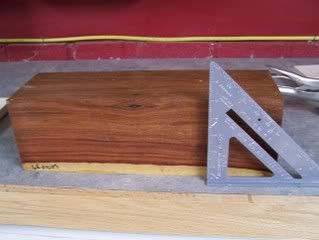 So what to do with this beautiful piece of hardwood? I have considered cutting it into smaller blocks for lathe work like pens or bottle stoppers, but I would still like to keep some of the width for slicing veneers for box lids. If I do any turning with it, I hope it goes without saying that a respirator is a necessity because the dust is very irritating. I even like to wear long sleeves as the dust has been known to cause a rash.
I really like the slice of sapwood in the corner of this piece too and that could make an interesting book match. Here is a closeup of the grain.
You have to admit that this is some beautiful and interesting wood. You can see why I have been hoarding it for a while and afraid to do something with it. Help me out, give me courage and direction so I can transform this piece into something even more beautiful.