The Brown Tool Auction and Sale
A few weeks back I was fortunate enough to attend the Brown Tool Auction and Sale. Well actually just the sale because the auction took place on Saturday and I was only able to get up to Harrisburg late on Friday. I met some old friends there in Kari Hultman and Mark Hochstein and made many more new friends. There is not really much to be said that can't be said in photos better.

This is kind of a blend between treadle and great wheel lathe. More footage of it on my YouTube account here.

Planes,

and braces,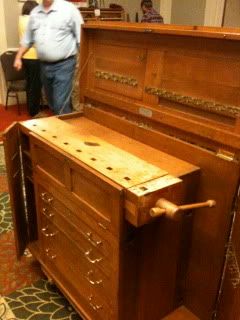 and benches, oh my!

A peek inside a Joiner's chest.

Not a woodworking tool, but a tool nonetheless. I just thought it was cool and made me think of HG Well's The Time Machine or some other Victorian science fiction story.
I did not escape unscathed and this is what you all really want to know… what'd you get???

Here is my booty. I have several smoothing planes but they are all in rough shape. This one is simply beautiful. All I had to do was sharpen the blade. Check out the mouth opening…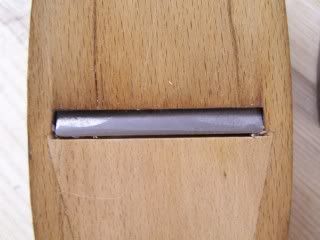 The other plane with the upright blade is a veneer toothing plane that I got for a song and I think might be useful for working really crazy grain.

Finally this last little beauty is a Snipe's Bill plane. I was looking for a set of right and left hand planes but only could find this one. There is a lot of mystery surrounding these planes and their uses but I think Don McConnell has gotten it right in his statement that these planes were used to start a cut on a piece of molding by registering in the gauge line. This could be really useful when laying out the initial rabbets on a stick of moulding when that frustrating moving fillister fence won't stay locked in place.
More to come on this oddball molding plane as I work with it. In summary, ebay is a great place to find old tools but you never really know what your going to get. The Brown show is guaranteed to give you quality tools and oftentimes the story of their provenance to add to your enjoyment.