RWW 56: WIA Robert Lang, Arts and Crafts and SketchUp
Bob Lang was particularly busy seeing as he was the only presenter who had two different seminars running at WIA, that along with playing "host" as a staff member from Popular Woodworking it was amazing he was still walking about by the end of the weekend.
Bob's Arts & Crafts seminar was a historical who's who of the style. Here are some of the names I threw out in the podcast along with some great sites that speak about the influences and social movement ideas
English Arts & Crafts: father of the movement are John Ruskin and William Morris
lesser known in the Urban style
CFA Voysey

CR Ashbee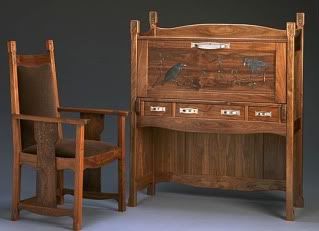 Mackay Hugh Baillie-Scott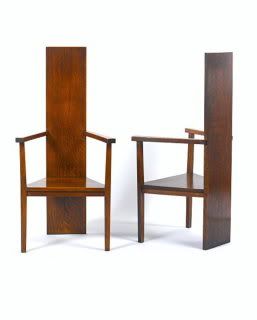 In the rural "Cotswold" style
Ernest Gimson make sure to check otu the virtual museum for some great pics as well as the craftsman videos.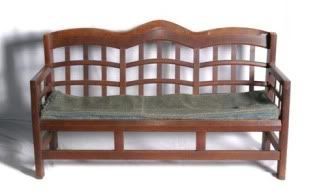 Sidney and Edward Barnsley I had more trouble finding information on Barnsley but I found this interesting book review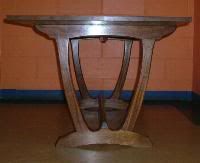 Then we cross the pond and look at the somewhat simpler, less elaborate American Arts & Crafts movement.
Take a journey into the Craftsman to learn about the social aspects of the movement
Check out Gus's work prior to studying in England. Very Art Nouveau and French inspired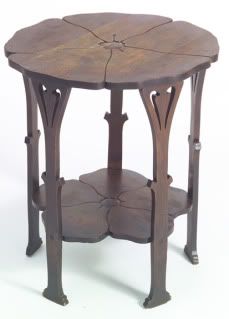 Now take a look at his work after getting inspired by William Morris and catching the Arts & Crafts bug. Also think about the Tabouret tables of his later career and compare it to the early table above.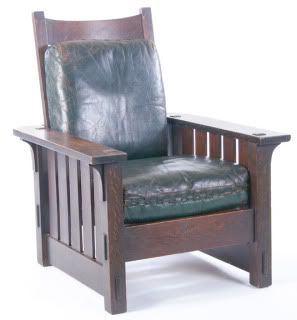 Visit antiquehelper.com
You can see the simpler lines and less ornamentation that is typical of American Arts & Crafts furniture. Harvey Ellis is credited with adding curves to Stickley's work but I urge you to check out the Craftsman because the large number of Ellis' illustrations adorn the pages.
Also check out Bob Lang's site for more info on Arts & Crafts and to keep tabs on the release of his upcoming Sketchup DVD/Book