What Are You Building for the Holidays?
I don't know how Santa does it!! I just turned off my lathe for the last time after almost 3 solid months of turning gifts. My feet hurt, my shoulders are tired, and I think I have taken a half inch off my Tormek grinding stone in that time.
Boy am I having a blast!!!
In addition for the craft show I do every year, I have been feverishly turning pens for clients and a few family members, making clocks for colleagues that already got one of my pens, making boxes for family, turning bottle stoppers to go with the traditional bottle of wine for hostess gifts to the myriad Christmas parties, and all the while filming it to capture for the podcast either now or later.
I have lost count now, but I believe I have made over 250 pens, 45 clocks, 25 boxes, 10 travel mugs, 15 bottle stoppers, 3 spokeshaves, and a partridge in a pear tree. (actually I cut down the pear tree because I thought it would make great turning stock) As for the partridge…mmmm that's good gravy!
Of course that coffee table that my wife wants is still on the drawing board and the plans of giving it to her for Christmas that were hatched way back in in July have gone up in smoke. I tell her it is because I want to get my bench done first so I can make her a high quality table and I'm sticking to that!!
I admit to being exhausted and will probably take a few days away from the shop to recharge and relax, but I do feel very blessed to have discovered this wonderful craft and that I am able to share it with so many people who help me throughout the year.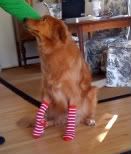 So what are you making for the holidays this year? Send me some pictures or let me know what is brewing in your shops. Are you finished with your gifts or are you still feverishly chopping away and trying to figure out which finish will dry the fastest.
So how do I get my hands on one of those magic elves from the North Pole, I hear they have some mad woodworking skills!!!
Merry Christmas to all and to all sharp chisels!