The Shop
Like a lot of hobbyist woodworkers, my shop is constantly in flux. Here are some pix of the shop form about 6 months ago. I am making some changes to accommodate more hand tool work and I post about that along the way and when it is finished put up some more up to date photos here.
My shop is in my one car garage. We do not park any cars in there so I have the whole 13'x26′ space to myself. Here is the back wall: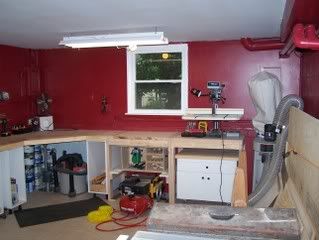 I will be putting a bench along this wall shortly. I don't like all the fixed cabinetry as I cannot move it around.
Here is the left wall where I keep my lumber rack and Miter saw for cutting down the rough length. The Kreg fence and stop are perfect for accurate, repeatable cuts.
Up front by the garage door is my trusty band saw. Out of the frame to the left is my Delta contractors saw.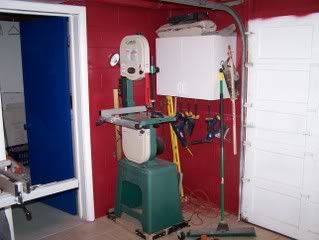 The shop is neat and orderly allowing me to put most everything away in a cabinet to keep the dust off of it. During the work day, this space also serves as "doggie daycare" so it is important to keep everything that would distract and interest a puppy up and out of the way.