"Carving" out some shop time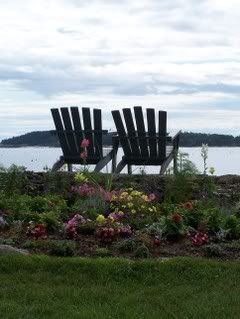 I know, I know, really bad pun. Shakespeare would be proud of me. You may remember that I mentioned I was going to take a crack at carving while on vacation in Maine last week. Our annual vacations to Maine are wonderful in that there is nothing to do on the small island where we stay. I know many of you can sympathize with the "I need a vacation from my vacation" syndrome that happen nowadays. We plan a family vacation and by the time you have gotten all the packing and house arrangements (dog sitting, mail stoppage, etc), and arrived at your destination you are exhausted. Then after a series of long days in Disneyworld, hot, sandy days on the beach, or getting lost in strange cities, you come home even more tired than when you left.
My family's trip to Maine is nothing of the sort. Every year we stockpile our books and puzzles for our quiet and infinitely relaxing trip to Maine. An average day starts with a late rise from bed, leisurely breakfast, perhaps a walk around the island with the dogs, then back to the house to get lost in a good book. I came prepared with my sketch book prepared to put down on paper some of the furniture and box designs that have been kicking around my head, some great books, and a small selection of carving chisels and basswood. Inspired by T-Chisel's period shell carvings and The Village Woodworker's tusk tenons, I wanted to learn some basic carving as a way to differentiate some of my designs. I do several craft shows a year and I sell a lot of smaller items like keepsake boxes or bowls. I have this idea to add small relief carvings to them as a way to spice them up. (or perhaps to draw attention away from that gap in the dovetail on the back corner)
I got a few carving books out of the library and did some research. Then after a trip to Woodcraft I was prepared with a tool roll of chisels and 2 chip carving knives. This was surprisingly affordable because my local Woodcraft was having a clearance sale on selected overstocked Swiss made tools. (Finally they put something on sale BEFORE I buy it)
I wanted to try both relief carving and chip carving thinking that both would look pretty cool on a small box or as an accent to a drawer front or table top. I will put together a podcast in the future specific to carving and the different types out there and skip that today and just say that there are plenty of great books out there on carving. Check out your local library, bookstore, or Woodcraft/Rockler and you will be surprise just how many titles you can find.
So here is some of what I came up with in my practice. I started with some chip carving and found this to be a lot harder than I thought. Getting all the cuts at the same depth and the walls of the chips to line up takes a bit of practice. Getting the feel for the knives was hard too as it feels completely different from chisel work. Once you get comfortable though, you find it a little addicting as there is no end to the geometric designs and embellisments you can create. Here is a picture of some of the border designs I was playing with that include the traditional dreischnitt and sechsschnitt triangular cuts.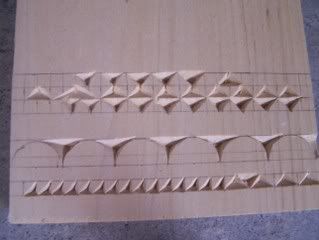 Here is another corner of the board where I was playing with some fan shapes and my first rosette. These were pretty hard because you have the stack the chips up against one another and the wood gets thin in between so I had some tear out in places.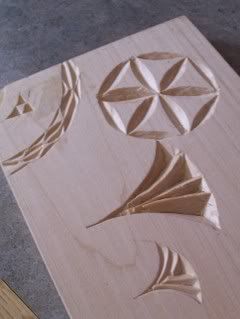 Nest I turned to my chisels to try some relief carving. I wanted to stay away from the geometric stuff and try some more natural designs. I sketched a few things I saw around me on the board. One of which was a fern shape since I was surrounded by a forest full of them. I traced the lines with the V tool and then scooped out the fronds between the lines using a #9 gouge. I quickly discovered that I didn't need to outline the fronds with the V tool but could scoop them better with just the 9 sweep. Here is the best one I did: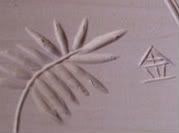 You'll notice the little Japanese character next to it. I pulled this off one of my sister-in-law's origami papers. I have no idea what it means. Anyone out there want to venture a guess? I just thought the fern came out with a certain Asian look to it. So next I tried some tall grasses thinking it would complement the design. This is just V tool work.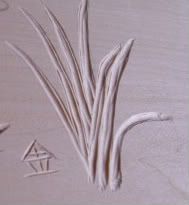 Finally I turned to one of my books to see if I could take a stab (the puns just keep on coming) at a more complicated design. So here is the main event:
I drew several concentric circles on the board and sketched the petals by hand. Then I outlined everything with the V tool. Next using a #7/12mm gouge I stabbed the outline around the petals severing the fibers around the flower. I relieved (or grounded out) the wood around the flower with a #7 fishtail gouge thereby "raising" the flower above the surrounding wood and bringing it into sharp relief. Next it was just a matter of rounding some edged and scooping out hollows in the petals to give it a 3D look. I carved the crisscross lines in the center using a V tool again.
I am really happy with how this last attempt came out. There is definately some chip out and areas that need to be cleaner but I know that will come with practice. The really shocking thing about this exercise is it was really easy. I think carving is one of those free form styles of woodworking that just scare us into not trying it because it involves artistry over machinery and straight lines. Once you actually put chisel to wood though, you start to have a lot of fun and the wood just peels away and starts to take shape. Even cooler is the fact that you can do this anywhere. I did bring along a couple of ceramic stones and a leather strop to keep the tools sharp, but the bulkiest item I had to bring along with me was the wood.
I hope to do some more of this work in the near future and soon plan to incorporate some simple designs into my work. I would love to hear anyone's comments or suggestions of designs to take on next. If nothing else take a look around you and observe the shapes in your everyday. You might find yourself wondering how they look carved into the lid of your next box. I admit that my surroundings in Maine did offer up plenty of help in the inspiration department.