Woodworkers Safety Week 2008
I cannot say thank you enough to Marc Spagnuolo, The Wood Whisperer, for conceiving of safety week in the first place. I know we will all read and see a lot of posts this week about horror stories in the shop. I have to admit that I have been blessed and very lucky in that I have never had an accident in the shop other than some scrapes and sore feet from the concrete floor.
That being said I wanted to bring up a safety topic that concerns other in my shop. Modern Woodshop has already touched on safety with other when they visit your shop. What I am referring to is our pets who love to be by our side, and under our feet (usually while the table saw is running)
First things first, no matter I do I cannot keep my retriever, Alex, out of the shop. When I let him in, he insists on being right by my side. Here is what I do to keep him happy and out of the way:
I have put a dog bed in the shop where he can settle down and stay out of the way.
I also bring in a few toys to keep him busy in his corner.
Periodically, I stop what I am doing and go over and pet him and spend some quality time.
These steps are all well and good when I am doing hand work or at a machine with good dust collection. When the dust starts to fly and the noise levels increase there is not much to do short of: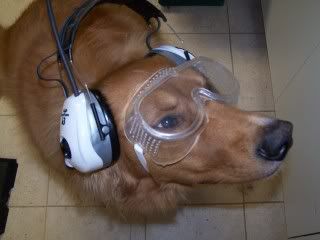 Seriously, at that point, I have to escort the dogs out of the shop. Just remember to think of your pets too as the increased noise levels and dust can effect them just as much as you. Let's not forget that tripping over a dog any time in the shop can lead to disaster.