The Wood I Leave Behind: Hoarded Treasures Exposed
Kari Hultman at the Village Carpenter put up a thought provoking blog the other day. I urge you to go over there and check it out because this post is a direct reflection of that message. In general I recommend you check out her site regularly anyway because it is simply brilliant.
The gist of her message is don't be afraid to start that project with that prized piece of stock you have lying around the shop. We all hoard these beautiful pieces with the intention of building something stunning from them, but more often than not this magnificent wood lays around for years because we haven't found the perfect project or we are just down right scared to cut into it.
I am one of these woodworkers. I have a pretty indecent collection of beautiful wood. While it is not the size of David Marks wood shed, considering I have only been in the craft around 5 years, it is indecent how much wood I have in my collection. Call me selfish but I want to use my wood and I would rather leave behind heirloom furniture than heirloom rough sawn lumber!
So here is what I am going to do. Starting here and once a month in some future posts I am going to open my shop and expose my hoarded treasure to the world. I want to hear from my readers suggestion on what to do with this rare and one of a kind wood that I have lying about. I already have some ideas but I would love to hear what y'all think. Maybe some encouragement and ideas will help me to set the wheels in motion to turn my nostalgia into feng shui.
So here is the first foray into my stash:

These are a few pieces of Ziracote that I picked up a few years ago on ebay. I had just turned a few pens out of Ziracote and I really liked the look of it. I added some Mineral Spirits to pull out some of the color. It is really dry in my shop now so it was evaporating quickly, but you can get a feel for the look without the spirits as well. Each one of these pieces is 1 1/4 thick and vary from 2″ to 4″ wide. They are 12″ to 18″ long. I think they might make a some pretty stunning box lids or book matched together for some cool veneer.
Here is a closer look at some of the figure: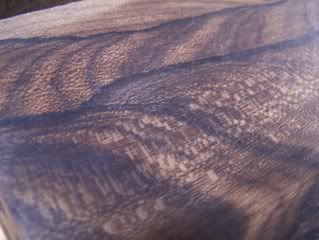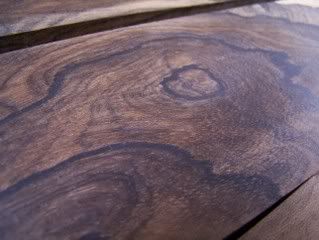 I think that whatever I use it for it should be used sparingly. There is so much going on here that it would overpower any piece if used en masse.
I would love to hear what my readers think of these pieces and what ideas are out there for the uses. This is just the tip of the iceberg for my stash so I hope everyone stays tuned for some future peeks into "The Hoard".