The Legacy of Tools: Gold Rush Era Molding Planes
After my trip to Valley Forge for the 2009 Hand Tools and Techniques conference I became a little obsessed with wooden planes. I had a particular interest in molding planes.
I was lucky enough to come across several auctions on eBay from the same tool chest. Unfortunately I was sniped on one of them, so I missed out on completing the set, but I have a fairly complete set of sizes 1 through 8 hollows and rounds.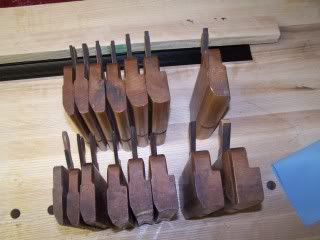 Hand cut moldings is an area where I am still very new, but I know enough to know that I don't need every size to be effective. In fact, like mortise chisels, you may find that you are reaching for the same couple of planes over and over again depending on your penchant for Roman versus Greek molding profiles. This however is a topic for another post.
The coolest aspect of working with vintage tools is the feeling that you are picking up where a long gone colleague left off. While I have many vintage tools, these molding planes have a particular significance as I know a little bit of the provenance. The planes were previously owned by one Cornelius Stout, born in Susanville, CA, in 1849. Cornelius was one of 3 brothers and 1 sister but the only brother to pursue woodworking. His father moved to California from New Jersey along with the great masses in response to the Gold Rush. It is here that Cornelius spent his formidable tradesman years as well as the rest of his life. In addition to making furniture, Cornelius was an entrepreneur who was responsible for a few patents, one of which was a clamp designed for both clamping and stretching actions. You can see his original drawing and patent application from June of 1909 here.
Cornelius worked in the Pomona, CA area until his death in 1925 at the age of 76.
On all the planes you can see his initials stamped into the back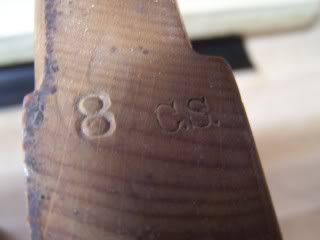 and on the front is the Ohio Tool Works stamp telling us just a little bit more about their history.

Obviously there are still many many gaps in the life of these wooden planes, but I take great pleasure in knowing that with every shaving I am continuing on the work of Cornelius Stout.
And no matter how good or bad my work is, I think he would approve